Public transportation in Santa Cruz dates back to the late 1800s when horse-drawn streetcars began operating in the city, to be replaced by electric streetcars in the early 1900s. In the 1920s, bus service was offered, but it wasn't until the 1960s that a formal public transportation system was established.
In 1968, the California State Legislature created the Santa Cruz Metropolitan Transit District to provide public transportation services in Santa Cruz County. The agency is governed by a board of directors comprised of elected officials of the city and county as well as community members.
The Santa Cruz Metro began operating in 1972 with an inaugural fleet of 20 buses and three routes. Today, Santa Cruz Metro operates around 30 routes.
In addition to its fixed-route bus service, Santa Cruz Metro offers a few specialized services. These include the Highway 17 Express, with direct service between Santa Cruz and San Jose, and the ParaCruz paratransit service for passengers with disabilities.
Santa Cruz Metro Ridership
The Metro serves a diverse range of people in Santa Cruz, including commuters, students, cyclists, seniors and people with disabilities. According to the Santa Cruz Metro's 2021 Transit Development Plan, the system provides over 5 million annual passenger trips and weekday ridership averages around 14,000 passengers.
The Santa Cruz Metro offers discounted fares for seniors, people with disabilities and students. According to the 2019 Annual Performance Report, seniors and people with disabilities accounted for approximately 10% of Metro ridership.
The University of California Santa Cruz is a major destination for public transportation in Santa Cruz. According to the 2021 Transit Development Plan, the UCSC Night Core route serves approximately 1,600 passengers on weekdays during the academic year.
The Metro also offers service to San Jose and Watsonville, serving people who work outside the county. According to the 2019 Annual Performance Report, commuter services accounted for approximately 23% of all ridership.
Santa Cruz Metro Sustainability and Inclusion Initiatives
Santa Cruz Metro has implemented a number of environmental initiatives including using hybrid and electric buses, adding solar power to its facilities, and reducing waste and water consumption. For example, in 2018 the Metro installed a 2.2-megawatt solar array at its bus yard. The panels generate enough electricity to support more than half of the yard's energy consumption.
In 2015, the organization set a goal to reduce its greenhouse gas emissions by 50% by 2030. As of 2021, the agency reported a 23% reduction in emissions.
The Metro's inclusion initiatives are intended to better serve the whole community and are a reflection of Santa Cruz's overall commitment to inclusion. Among these is ParaCruz ADA paratransit service, offered to people with disabilities who are unable to use standard public bus service. ParaCruz provides door-to-door transportation at fares comparable to fixed-route service. Moreover, in February of 2023, the Metro Board of Directors approved a youth free ride program.
The Metro offers customer service in Spanish as well as multi-lingual announcements on its buses. The agency also has a free translation service for passengers with around 7% of ridership identifying as Spanish-speaking only.
Support a Greener, More Inclusive Santa Cruz Metro: Share Your Ideas and Feedback with Instant Input.
Santa Cruz Metro Annual Budget
You can find information on historical and current budgets at the Santa Cruz Metro site. The budget may include funding from a variety of sources, including passenger fares, sales tax revenues, state and federal grants, and local contributions from the area that the agency serves.
A significant portion of Santa Cruz Metro's budget goes towards the operation and maintenance of its bus fleet, as well as employee salaries and benefits. The agency also invests in capital improvements, such as bus stop upgrades and facility renovations, as well as technology upgrades, such as new fare collection and passenger information systems.
How to Provide Input to the Santa Cruz Metropolitan Transit District
Giving your input about transportation projects in the city and county of Santa Cruz is an important aspect of citizen participation in government. There are several ways to engage with the Santa Cruz Metro.
Community members can attend a board meeting. At these regular public meetings, members of the public can provide input on transit-related issues. Topics include major initiatives, service changes and fare adjustments, for example. Information about upcoming hearings is generally published to the Metro website and local media.
Santa Cruz Metro has an online comment form where you can submit feedback, suggestions, or complaints about services. Additionally, you can contact the Metro's customer service department to voice any questions or concerns.
Shape the Future of Santa Cruz Transit: Share Your Valuable Insights with Instant Input
How the Metro Works with the Santa Cruz City Council
The Santa Cruz City Council has oversight of the Santa Cruz Metropolitan Transit District on issues relating to public transportation in the city. The City Council works with the city and the Metro to plan and coordinate transportation services, identify areas of the city where transportation improvements are needed and develop strategies to address challenges. The City Council also works with the Metro on joint projects such as the Santa Cruz Rail Trail.
How the Metro Works with the Santa Cruz County Regional Transportation Commission
The Santa Cruz Metropolitan Transit District and the Santa Cruz County Regional Transportation Commission (RTC) work together on studies and planning, funding, development, and other aspects of public transportation in Santa Cruz.
Among its duties, the RTC is responsible for the transportation sales tax program in Santa Cruz, a source of transportation project funding. The RTC holds regular public meetings and publishes schedules and other information about them here on the RTC site.
Alternatives to Public Transportation in Santa Cruz
Commuters, visitors and others who find that public transportation doesn't meet all their needs in Santa Cruz have plenty of other options. The SoCal weather makes active transportation options particularly abundant.
Santa Cruz's bike-friendly infrastructure is widely used by residents and visitors alike. Bike rental companies and bike share programs are available along with electric scooter rentals. With several pedestrian-friendly areas, including the downtown area, Santa Cruz supports those who wish to increase walking for health and fitness.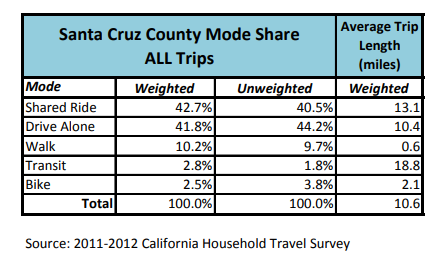 Some Santa Cruz commuters participate in carpooling as a means to save money and help the environment. There are several online platforms as well as social media groups dedicated to carpool matching. As always, it is important to exercise sufficient care in screening prospective carpool mates.
Other options for getting around Santa Cruz include the popular ridesharing services such as Uber and Lyft. Taxis may also be available.
Santa Cruz Transportation Challenges
City officials may struggle to find practical ways to reduce traffic congestion and parking problems. Neighborhoods are already arranged, streets have been created, traffic flow patterns are established, and budgets are limited. What's more, the population of Santa Cruz will continue to grow. The Santa Cruz 2030 Plan includes a section on mobility that gives a long-range perspective of Santa Cruz transportation challenges and their prospective solutions.
Help Improve Santa Cruz Transportation: Share Your Insights and Ideas on Instant Input
Frequently Asked Questions