We're Expanding the Reach of Citizen Engagement Software
We recently released the new unclaimed free project type on Instant Input. In this post, we'll take a moment to explore what unclaimed free projects are on Instant Input and how they compare to claimed premium projects. But first, a bit of background … 
Instant Input is a civic engagement platform that allows project owners, such as municipalities and private developers, to inform and seek input from the public on a variety of issues pertaining to proposed and active development projects. The types of projects you'll find on Instant Input include things like supportive housing, active transportation projects such as new bike lanes, and municipal infrastructure projects like treatment plants, stormwater mitigation, and roadway enhancements. For community members, Instant Input is the best way to stay on top of major projects in your neighborhood and make your voice count.
We've designed Instant Input with a convenient map interface that gives community members an interactive view of local projects. In the map and synchronized list view, you'll find two types of projects on Instant Input: Free and premium. 
Free projects are added by us to Instant Input using publicly available data sources. Premium projects have been "claimed" by a paying subscriber, such as a municipality or private developer.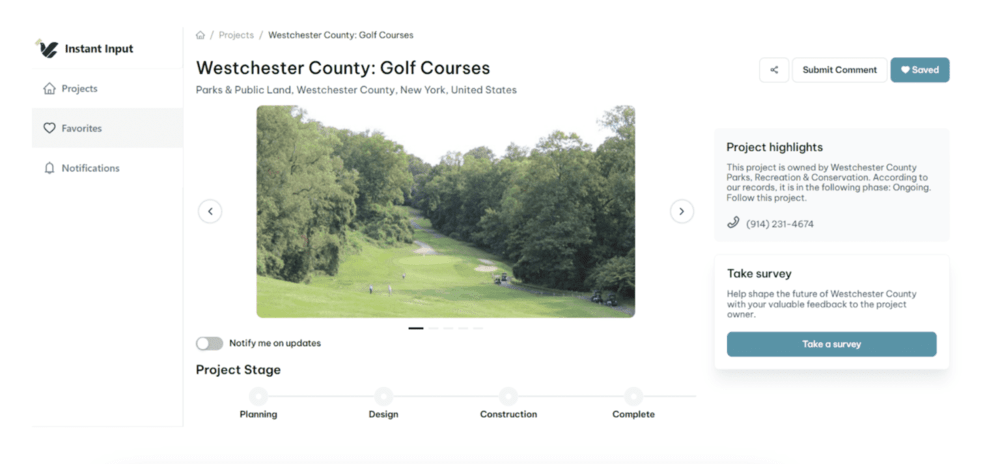 Project Details View of a Claimed Premium Project in the Instant Input Civic Engagement Platform
The project details pages for each of the two types of projects have different information depth and engagement opportunities. Premium projects have more detailed information and public engagement features such as surveys and commenting from the public to the project owner. 
The table below illuminates some of key differences between the free and premium projects found on Instant Input:
| | | |
| --- | --- | --- |
| Feature | Unclaimed Free Projects | Claimed Premium Projects |
| Map View | X | X |
| Project List View | X | X |
| Project Details Page | X | X |
| Project Sponsor Profile Page |   | X |
| Managed by Project Owner |   | X |
| Project Owner Dashboard |   | X |
| Community Surveys |   | X |
| Community Commenting |   | X |
| Instant Input Online Community Engagement |   | X |
| Project Stage Tracker |   | X |
| Project Document Library |   | X |
| Project Notifications and Alerts |   | X |
| Search Optimized |   | X |
As you can see, while unclaimed free projects contain useful basics, claimed premium listings offer bi-directional community engagement and richer information for community members. For project owners, claimed premium projects also offer access to a broader local audience by leveraging Instant Input search and community engagement outreach.
Questions or comments? We'd be happy to hear your feedback. Drop us a line at info@instantinput.com.